►PCB membrane switch
PCB Membrane switch , Printed Circuit board membrane switch ,PCB membrane keypad,PCB membrane panel, PCB membrane button.

►Basic info
It is based on PCB.It is better for product designing and assembly more components.PCB membrane switch combine PCB and graphic overlay perfectly.
There is a line connected to PCB in normally silver printed circuit membrane switch or FPC membrane switch.Buttons can not be designed on line .PCB membrane switch can avoid such disadvantage.Double side circuit can weld socket on any place on PCB plate which don't limited by button layout.
As more components can be mounted on PCB membrane switch,it save much space,and enhance the stability of membrane switch and button work life.It also make mounting be easier.

►Structure presentation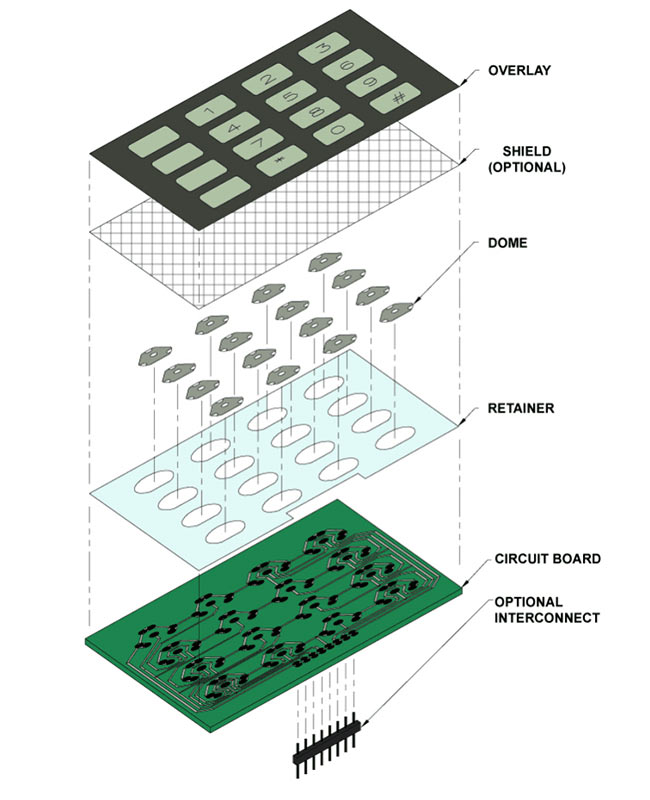 ►Normal material
•Graphic overlay material:
Finish
Specification
PC(polycarbonate)
Gloss
0.175/.25/.35/.5 mm thickness
Matt
0.175/.25/.35/.5 mm thickness
PET (polyester)
Fine Texture
0.15/.20 mm thickness (Autotex F150/F200, imported)
Velvet Texture
0.15/.20 mm thickness (Autotex V150/V200, imported)
Gloss with Hard Coat
0.18 mm thickness

PCB material:
(1)Thickness:0.4/0.6/0.8/1.0/1.2/1.5/2.0/2.5/3.0mm;
(2)Layer:2/4
Back adhesive material:3M467, 3M468, 3M9080A or others alternative

►Working environment
Temperature:-20~60℃
Humidity:40℃,RH <95%

►Electrical performance
Circuit voltage:DC 50V MAX (others need meet components)
Circuit current:2A MAX (others need meet components)
Closed circuit resistance:normally <10 ohm(details see products designing and circuit length)
Button working life:>0.5 million times
Response time:<10 mS

►Notice on mounting and operating
①PCB need be mounted on machine flatly.Any bend and circular is not allowed
②Mounting should be operated in 15~30℃ temperature and 40%~70% humidity if there is adhesive on the back of PCB.
③Input voltage and current shall meet the performance requirements of the switch.
④Please press button by finger or soft silicon. Do not use hard objects like screwdriver, metal stick in case of any malfunction.Do not use sharp objects to poke any areas on the panel or knife to scratch it.
⑤Don't knock button by heavy objects.
⑥Use the product under required environment.
⑦Do not use the normal panel membrane switch (without water proof and ultraviolet proof) outdoor for long time.