►Poly dome membrane switch


Construction of poly dome membrane switch and its circuits design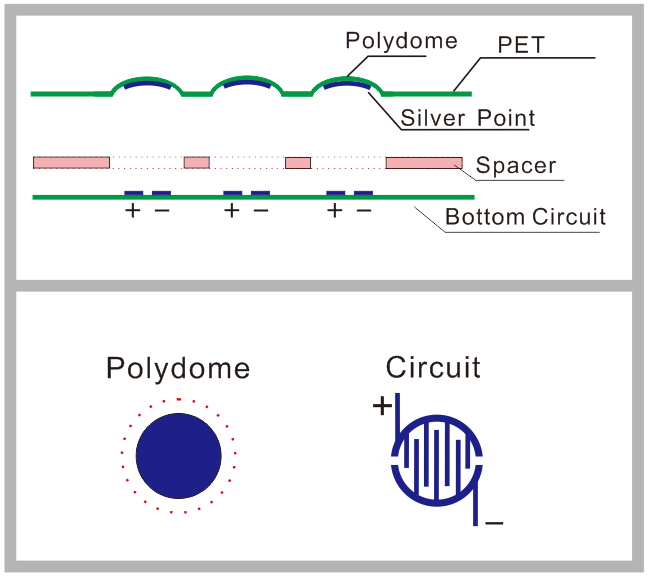 Working principle of Poly Dome Membrane Switch

When you press the poly dome key, the silver print under the dome connects with circuit on opposite layer, thereby closing the circuit. The click hand feeling indicates the correct operation. The function of poly dome is similar as metal dome.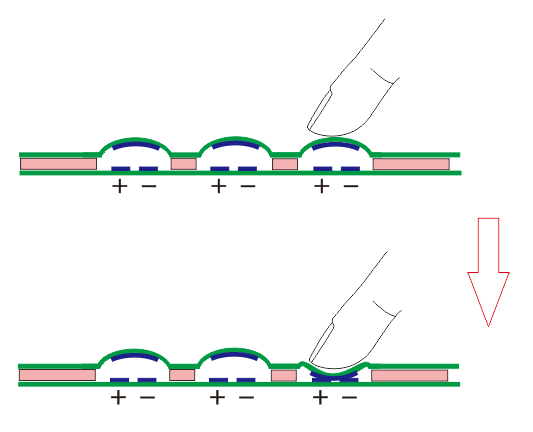 The production of poly dome
Put the PET panel with printed silver points in heated mold. Then,press the mold to form half round shape.
(Below pictures show how the mold work.)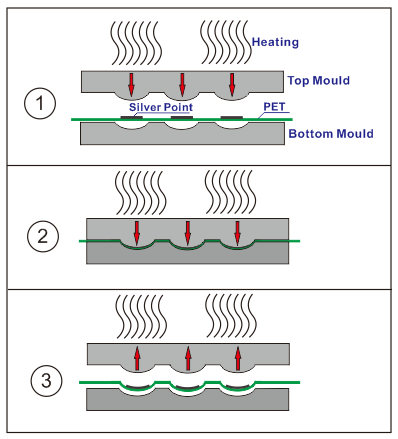 Advantages of poly dome membrane switch
1)

Long working life
2)Recover easily after bending and do not effect the function
3)Lower material cost than metal dome
4)Suitable for products requiring small buttons and lighter pressure

Electrical performance
| | | | |
| --- | --- | --- | --- |
| Item | Date | Item | Date |
| Wire Resistance | 0.5mm width,<1Ω/cm | | 25-200mA,0-30V DC |
| | >100MΩ 250V DC | | <50V DC |
| | >1 million times | | -20℃-35℃ |
| | 40℃,98%RH No Influence | | 10ms |

Notice
Do not use it in high temperature environment (>40℃)for a long time, otherwise poly dome will lose elasticity.
Do not use it in very low temperature environment (<-25℃)for a long time, or the service life of domes will be affected.
Do not use it outdoor for a longtime.
Do not press the dome by sharp or hard objects.